WHAT IS THE EXOR PROJECT?
Exor is an open source, decentralized blockchain-based cryptocurrency using the PoS consensus mechanism. Earn, store, and transact digital currency virtually instantaneously with Exors simple to use desktop wallet.
With a low supply, community governance, an open identity team and real-world use cases, Exor aims to increase global adoption of the cryptocurrency space within conventional business with secure and instant digital payments. Exor is also the only accepted currency to provide premium access to the Crypto Asset Manager platform, an industry first.
Staking and Masternodes
The network is secured using both PoS staking nodes and masternodes. Each masternode requires 50,000 EXOR as collateral, and provides a lucrative yet sustainable reward structure that will last for a decade. Masternode holders will also be rewarded with premium access to the Crypto Asset Manager platform free of charge.
EXOR owners are rewarded in several ways. A lucrative reward structure is provided to users that stake their coins and/or run Exor masternodes. Additionally, Masternode holders are rewarded with full and premium access to the Crypto Asset Manager.
Compared to the Bitcoin network, which takes 10 minute or more for transaction confirmation, Exor transactions, are confirmed within 60 seconds and are most often instant.
EXOR holders are at the heart of our community. We have no central ruling company with an open identity team and Exor masternode holders will be consulted on future developments. Your support and ideas will help shape the Exor project!
To send $25 of Bitcoin currently costs around $0.42, the same transaction paid in Exor would cost as little as $0.01!
Max total supply of 43M, with monthly coin burns planned for the near future.
We have a self-funded budget from both early private investments, and revenue generated from the Crypto Asset Manager. No one person controls our budget.
WHAT IS THE CRYPTO ASSET MANAGER?
A unique desktop app solution that can only be described as the swiss-army knife of crypto tools. The Crypto Asset Manager aims to include any and all features that can enhance a person's crypto experience. There's something for everyone here, and we welcome all investors, traders, hodlers, developers and casual crypto-goers to experience what Exor has to offer.
The software is currently in beta status, which will remain in effect until the internal framework is more complete. However, the system is already very stable, and every effort has been made to ensure these releases are as bug-free and usable as possible.
Please note that the software currently supports the Windows operating system only. Cross-platform support for MacOS and Linux is planned for the near future.
Beta Version Screenshots: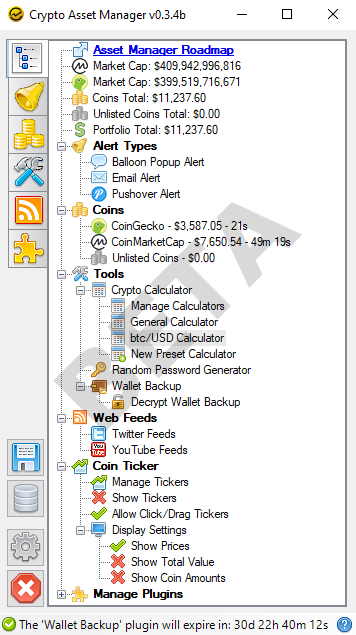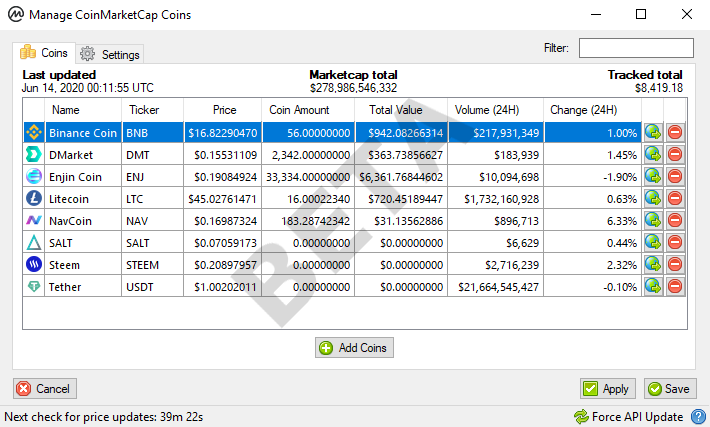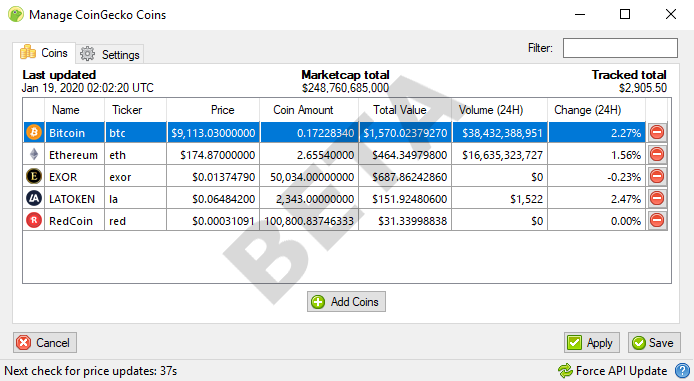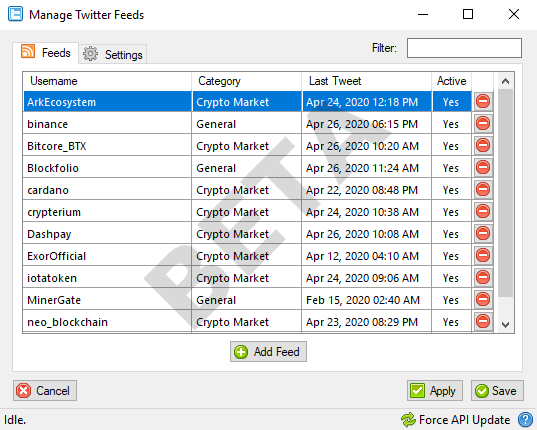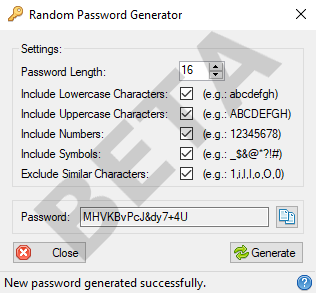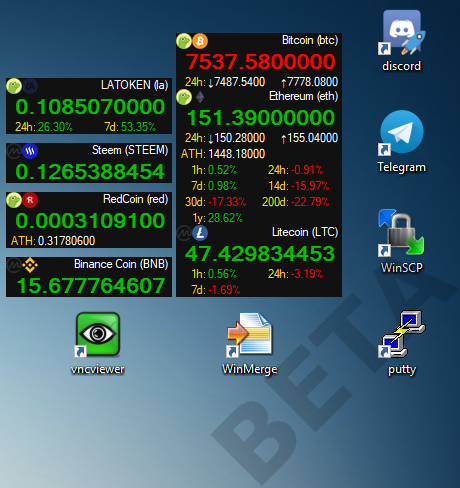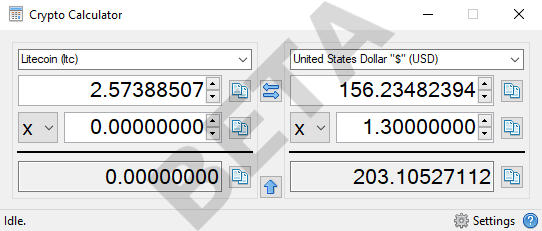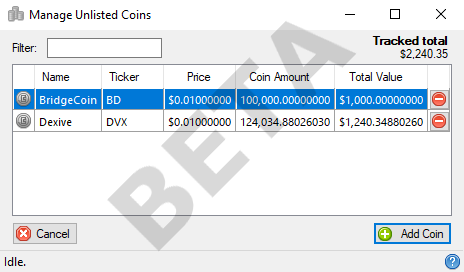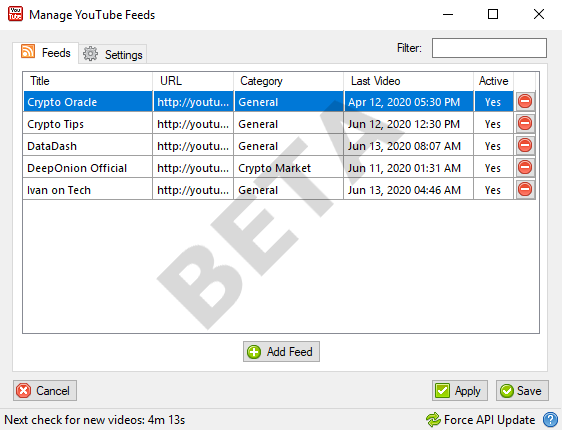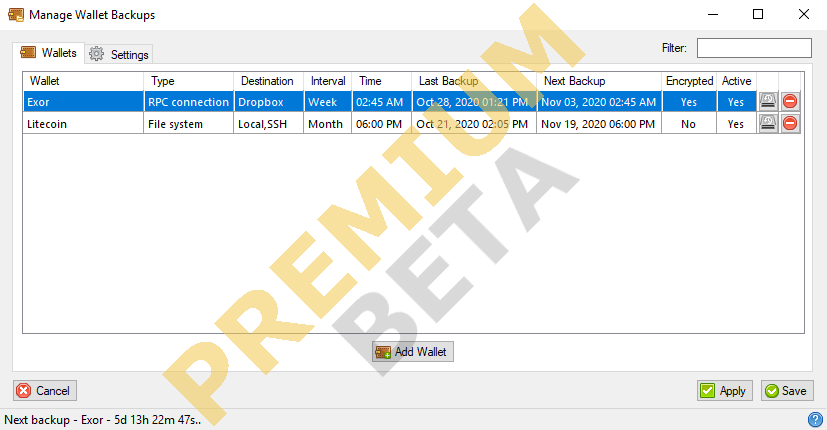 Main Features:
View your entire portfolio in virtually any fiat or cryptocurrency
Receive price updates from coin listing sites such as coinmarketcap or coingecko, dynamic prices from your holdings on exchanges and even dynamic balance and transaction updates from locally running wallets that are constantly changing because of mining/staking/masternodes/airdrops/etc
Price alerts when coin values reach certain highs or lows
Track multiple portfolios using separate profiles
Movable ticker widgets for individual crypto assets on your desktop screen
Monitor and communicate with local and remote wallets to receive updates regarding new transactions, error statuses and even the ability to restart and fix many basic wallet issues automatically
Calculator and conversion tools between any crypto asset or fiat currency for making quick decisions while live trading
Automatic backup solution for all local wallets with optional encryption and cloud storage options
Track transactions across all blockchains and print out a tax report valid for any country
Automated trading bots that buy and sell cryptocurrencies automatically based on rules that you set
Monitor and receive alerts when new content is available from popular cryptocurrency news and other related web feeds
One-click masternode installer and monitor that will eventually support all unique masternode types and be able to report masternode status and other health options, plus be able to fix basic problems automatically
Customizable alert options for receiving messages on many different social media or chat platforms. Ex: send masternode reward alerts to an email address, send twitter updates to a discord account, send price alerts via text msg except if the price of BTC goes above $50k, then in that case it should ring your phone and wake you up even if its 3 AM
Generic tools for fixing or removing corrupt blocks to prevent needing to resync large blockchains from zero
Other misc tool ideas. Ex: monitor and prevent shutdown/restart/logoff of a computer while known blockchain wallets are running to prevent corrupting them
All basic functionality provided free-of-charge
Each premium plugin can be purchased for a monthly fee of $1.00 USD of EXOR
The finished product will literally feature 100's of seperate tools that can all work and integrate together to give you peace-of-mind for all of your cryptocurrency assets.
Additional Benefits for EXOR Masternode holders:
Periodically receive 80% of the block reward from the EXOR blockchain
Download all premium plugins from the Crypto Asset Manager for free
Download current beta release of the Crypto Asset Manager
Invitation to join our VIP chat group for priority support and information on upcoming developments and events [Click here for more info]
Future benefits include a profit-sharing program where masternode holders will receive dividends from the monthly Crypto Asset Manager revenue
v0.3.4
Wallet backup plugin

[Oct 2020]

:
automatic backups of local wallets with optional encryption and cloud storage options.
---
YouTube feeds plugin

[Jun 2020]

:
monitor unlimited youtube channels and receive an alert when new videos are found.
---
Public beta release

[Apr 2020]

:
the beta version of the crypto asset manager software is now available for public download.
---
Unlisted Coins plugin

[Mar 2020]

:
add coins to your portfolio that are not yet publicly listed on an exchange (useful for ICO/IEO's and other initial offerings where a coin does not yet have an api to download the price and other data).
---
Crypto Calculator plugin

[Jan 2020]

:
quickly convert from any cryptocurrency to another cryptocurrency or to/from fiat.
---
Coin Ticker plugin

[Nov 2019]

:
display small, moveable ticker boxes on your desktop with current price info for your favourite coins and tokens.
---
Show more
v0.3.5
Premium plugin payment integration:
enable linking to an EXOR wallet address anonymously from within the crypto asset manager software for payment verification and direct download of premium plugins.
Local wallet plugin:
connect to local running wallets and receive alerts on new transactions, error messages and other problem situations.
---
Gui redesign:
restructure the layout and design of the crypto asset manager software to implement a more modern look and feel.
---
Price notification plugin:
receive alerts when coin values reach certain highs or lows.
---
Cross-platform support:
allow the crypto asset manager software to be used on any desktop computer operating system, including Windows, MacOS and Linux.
---
Transaction tracker plugin:
keep tabs on where any given crypto asset was bought and sold, and track the value throughout the whole process.
---
Tax helper plugin:
generate tax reports on your crypto investments valid for any country.
---
Show more

Circulating Supply

Current USD Price

Current LTC Price

Masternodes
| | |
| --- | --- |
| Consensus Mechanism: | Proof-of-Stake (PoS) |
| Block Time: | 60 Seconds |
| Difficulty Retargeting: | 60 Seconds |
| Port: | 51572 |
| RPC Port: | 51573 |
| Masternode Collateral: | 50,000 EXOR |
| Masternode Activation: | Block 10281 |
| Min Stake Age: | 60 Minutes |
| Maturity: | 100 Confirmations |
| Max Coin Supply: | 43,000,000 EXOR |
| Premine: | 54,999,979.84 EXOR* |
*The 54,999,979.84 pre-mine was minted to adequately cover swapping early investors from the NLX blockchain. On June 24, 2019, 27196357.43982939 EXOR was burned by sending to an unspendable wallet address: EXorBurnAddressXXXXXXXXXXXXXW7cDZQ.
NOTE: A small percentage of EXOR is also being held in address ELLTfrsXhVpSDzNUqdY1XcccqtBbDX3Bcq and will be used to sustain the project while we work to build the full Crypto Asset Manager platform.
After the "pre-mine" and "fair launch" phases, the remaining phases are set to reduce block rewards by 15% every year on average.
Phase
Block Height
Block Reward
Stake Reward
Masternode Reward
Pre-mine
1-200
274999.8992 EXOR
0% (0 EXOR)
0% (0 EXOR)
Fair Launch
201-20360
0.001 EXOR
20% (0.0002 EXOR)*
80% (0.0008 EXOR)*
Year 1
20361-545960
5.4 EXOR
20% (1.08 EXOR)
80% (4.32 EXOR)
Year 2
545961-1071560
4.59 EXOR
20% (0.918 EXOR)
80% (3.672 EXOR)
Year 3
1071561-1597160
3.9015 EXOR
20% (0.7803 EXOR)
80% (3.1212 EXOR)
Year 4
1597161-2122760
3.3163 EXOR
20% (0.6633 EXOR)
80% (2.653 EXOR)
Year 5
2122761-2648360
2.8188 EXOR
20% (0.5638 EXOR)
80% (2.2551 EXOR)
Year 6
2648361-3173960
2.3960 EXOR
20% (0.4792 EXOR)
80% (1.9168 EXOR)
Year 7
3173961-3699560
2.0366 EXOR
20% (0.4073 EXOR)
80% (1.6293 EXOR)
Year 8
3699561-4225160
1.7311 EXOR
20% (0.3462 EXOR)
80% (1.3849 EXOR)
Year 9
4225161-4750760
1.4714 EXOR
20% (0.2943 EXOR)
80% (1.1772 EXOR)
Year 10
4750761-5276360
1.2507 EXOR
20% (0.2501 EXOR)
80% (1.0006 EXOR)
*Masternodes do not receive any rewards until block 10281 to give ample setup time. Stakers will take the full block reward between blocks 201-10280 as a result.
DOWNLOAD THE LATEST WALLET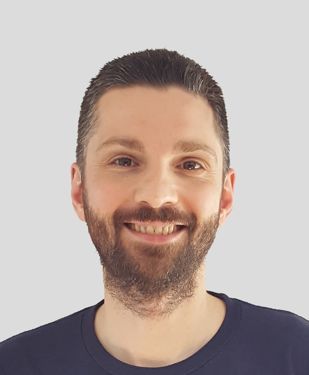 Joe Uhren
Founder and Lead Developer
Joe has been working as a full-stack developer for over 20 years and writing blockchain code since 2018. He is proficient in more than 15 computer languages and is constantly learning new techiques and technologies in order to extend and improve existing blockchain infrastructure.